Call Maker - Edward Harry Anderson
---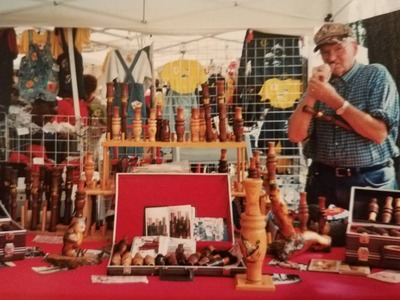 Name: Edward Harry Anderson
City: Champlin
State: Minnesota
Country: USA
Company Name: Genuine Eddy Call
Born: 1918
Died: 2010
Description
Edward Harry Anderson, born February 16, 1918 and passed away July 3, 2010 at the age of 92.
Eddy started making duck calls around 1979 and goose flute calls around 1999. Eddy wanted a design of his own, and developed the unique shape you see here on his page. All it takes is a quick glance to recognize one of his calls. These calls have a keg-like shape, and distinctive turned rings on either side of the lanyard groove. Eddy's barrels are mostly made of black walnut, but other exotic woods were used if requested or provided by the customer. The stopper/insert were made of cherry and have a gentle flare at the top and bottom. The inserts are cut in the Arkansas style using Mylar reeds. All of Eddy's call are sealed with several coats of polyurethane in either a gloss or satin finish. Eddy would sometimes use brass bands around the barrel tops that were cemented and friction fitted to the call.
Eddy made specialty calls too. Including calls with 12 gauge shotgun brass (Federal, Winchester and Remington) embedded in the barrels, and in 2004 his new design featured an embedded compass. His prized specialty calls are the hand painted Mallard and cattail calls painted by Richard "Dick" Schiebel, a renowned decoy carver and artist (Only about a dozen of these exist). Another artist, Arnold Flente was known to sign and paint barrels too. The rarest calls are the hand carved calls featuring a carved duck. Only about ten of these are known to exist.
Most of his calls are hand signed Eddy or Eddie, however in 2004 he started to brand the top of his barrels with "Genuine Eddy Game Calls"
Information provided by Doug Lodermeier, Found in Hunting & Fishing Collectables Magazine Vol 4 Number 5 –"Eddie Anderson: Dean of Minnesota Callmakers"
Have more info about Edward Harry Anderson?
We'd like to know!
Sign up for an account and start contributing:
Have an account already? Log In
*Contributions will not post directly to the site. All contributions will be reviewed and considered.