Call Maker - James "Cowboy" Fernandez
---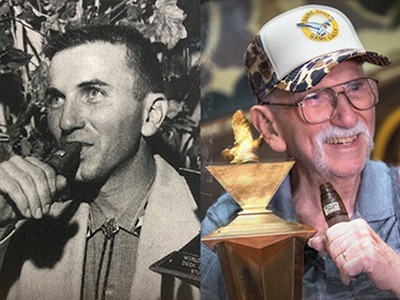 Name: James "Cowboy" Fernandez
Aliases: Cowboy
City: Port Author
State: Texas
Country: USA
Company Name: Yentzen / Sure Shot
Born: 1931
Died: 2016
Description
James "Cowboy" Fernandez was born on December 12, 1931 and passed away on August 16, 2018 at the age of 86. James was the Founder & Owner, Sure Shot Game Calls, Inc., Groves, Texas. He was the 6th of 8 children, and the first to be born in Texas, hence his nickname "Cowboy".
James joined the Army during the Korean War and served 4 1/2years before returning to Port Arthur, Texas. He attending Lamar University in Beaumont, Texas in pursuit of an Engineering degree. In the early 1950's he worked with George Yentzen designing and building duck calls. Mr. Yentzen patented his double-reed call in 1950, but the calls really didn't take off until after James tweaked the design and won the world championship. When Mr. Yentzen passed away in 1958, James took over the company and renamed it Sure-Shot Game Call Company in 1959. In his garage at home he worked on fine tuning the calls. He wanted the best and he continued improving the double reed producing a perfect duck sound. Though further research and design the invention and patent of the triple reed duck call was born in 1968.
For 52 years James traveled, promoting, selling, and teaching hunters of all ages, all over the USA. Sure-Shot Game Calls grew and produced not only duck calls but starting in 1970, goose, deer grunt, turkey and predator calls. With the developing, inventing and expanding on his product line of calls he saw the need to develop a catalog for the many wholesalers and retailers and individuals that bought the Duck, Goose, Turkey, Squirrel, Deer, Predator and the other 25 calls and miscellaneous hunting accessories.
During his lifetime, James won several calling contests with the original "Yentzen" duck call. Including;
1959 The Gulf Coast Duck Calling Contest – Port Author, Texas
3 time winner of the Gulf Coast Regional Duck Calling Contest
6 time winner of the Texas Open Duck Calling Contest
3 time winner of the International Duck Calling Contest
Qualifying and won the 1959 World Duck Calling Contest – Stuttgart Arkansas
1960 World Champion of Champion Duck Calling Contest - Stuttgart Arkansas
Soon after winning the Champion of Champions, Johnny Carson invited him to appear on "The Tonight Show" to demonstrate his calling.
In September of 2012, James and his wife Iva sold their passion and love, and as James refers to "his baby" Sure Shot Game Calls, Inc. to a great and well respected man and friend Charlie Holder.
In 2014 James was inducted into the "Legends of the Outdoors" Hall of Fame.
At the close of each promotional event James shared one final thought, "Take a young person hunting today, and you won't have to hunt the streets for them tomorrow".
Have more info about James "Cowboy" Fernandez?
We'd like to know!
Sign up for an account and start contributing:
Have an account already? Log In
*Contributions will not post directly to the site. All contributions will be reviewed and considered.