Call Maker - Andrew Sedivy
---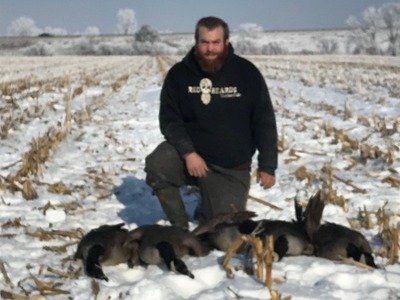 Name: Andrew Sedivy
City: Sioux City
State: Iowa
Country: USA
https://m.facebook.com/Redbeardcalls/
Company Name: Red Beards Custom Calls
Born: 1988
Description
Hey there I am Andrew Sedivy I own and operate Red Beards Custom Calls with my wife Haley Sedivy. I started the company in 2014 for help with ptsd I served 5 years in the navy Seabees. A tour to Iraq and Afghanistan when I came home in 2011. I was visiting with my counselor one day at the va and he told me to find somthing productive to use my time with so as a avid waterfowler since I was 5 I decided I'll try and make a call. One turned into allot more so after 3 years of throwing inserts after insert away , I'm kinda a perfectionist lol. I. 2013 I found the sound I was looking for and the crossing Guard was born it's our main line down and dirty goose call from there we started finding our duck sound. Once we accomplished this late 2013. 2014 we signed papers and made my dream real I have continually tried to push my design and will continue to do so.
Have more info about Andrew Sedivy?
We'd like to know!
Sign up for an account and start contributing:
Have an account already? Log In
*Contributions will not post directly to the site. All contributions will be reviewed and considered.